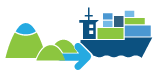 Link created between buyer,
exporter and producer
Established alliances with
small growers and groups
Technical assistance in
sustainable practices
Physical and cup
analysis in regional and
central hubs
Fair and direct relations
based on high quality
Traceability warranted
from collection to shipping
WELCOME TO THE FAMILY
Each one of the members of the InConexus' family is passionate about Colombian coffee and its sources. We are dispersed all around the country and here we show you some of our working places and members.
We believe everyone is important in the company, and we all work together to keep being the best source of Colombian fine coffee.
If you want to be part of our team, contact us in the links below.